Advantech FWA-1010VC White-box for vE-CPE & SD-WAN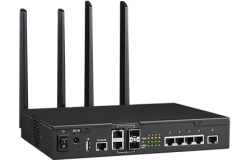 Last Updated: June 04, 2020
The FWA-1010VC is an off-the-shelf CPE platform based on Intel x86 server Architecture optimized for deploying VNFs and services in enterprise and small to medium businesses. The platform is primarily destined for communication service providers (CSPs) and enterprises leveraging the advantages of NFV and SDN to replace fixed function systems with an open platform running these functions as VNFs. Together with tested and certified solutions from key NFV software vendors, Advantech supplies FWA-1010VC white-box network appliances that have been profiled for exact performance and feature sets and are ready for deployment on customer premises. Available as an Advantech branded or customer branded box, Advantech offers extensive integration and test services prior to packaging and labelling, all according to CSP specifications and software options. A worldwide logistics network offers a flexible delivery model to meet unique needs and budget.
Solution Features
Scalability and performance


The FWA-1010VC is available in 4 or 8-core Intel®Atom™ Processor, ensuring that the right performance level can be matched to the workload at hand. 2-core versions are available on request for the most cost sensitive applications.

Secure connections without penalties


Integrated Intel® QuickAssist Technology accelerates execution of crypto algorithms without burdening the CPU. Secure branch connectivity including end-to-end encryption can be provided without compromising VNF performance or increasing cost.

Physical Security


In deployment scenarios using wireless connectivity via the integrated modem socket, the SIM card can be inserted via a small, removable plate. The simple installation procedure can be handled by untrained users.

WiFi Integration


The unit can integrate a WiFi module with 2x2 MIMO support to provide access point functionality. This integration not only reduces solution costs but it also leads to reduced OPEX by reducing the number of devices that need to be managed.

Reliability & Availability


Designing for cost does not necessarily mean sacrificing reliability. The FWA-1010VC comes with ECC memory support which is an essential feature for supporting server availability.

Rich LAN connectivity


Four integrated copper LAN ports supporting auto crossover cabling (MDX) can be used to connect devices on the LAN. These ports are connected to an integrated Gigabit Ethernet SoHo switch inside the FWA-1010VC.

Ethernet Connectivity to the WAN and more


Two Gigabit Ethernet ports support copper (RJ45) as well as standard fiber media (SFP) providing maximum flexibility in connecting to existing onpremise infrastructure without external media converters.

Wireless Options


The option to add 4G wireless connectivity can be used to implement service availability using LTE as a backup network or to support broadband wireless access in remote locations.

Agility and TCO


Dual-media WAN, Wireless, WiFi and copper LAN ports support allows the FWA-1010VC to span complete rollouts no matter which infrastructure is present in a given location.

Zero Touch Provisioning


The FWA-1010VC features a software controlled event button and status LED which can be used to implement an end user driven installation process, relinquishing the need for the service provider to send personnel on-premise to facilitate installation.
Categories
Accelerators
Categories
DPDK
Enterprise
Hardware Platforms
Intel Technologies and Platforms
Intel Atom Processor
Intel QuickAssist Technology (QAT)
Network Location
NFVI Hardware
On Premises
SD-WAN/uCPE
Security
Telecommunications
Verticals/Industries
Workloads and Use-cases