B4N Controller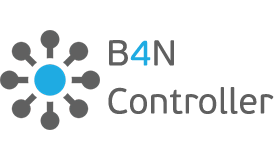 B4N Controller is the main component of B4N Service Platform that provides a unified control point of SDN-enabled network and simplifies network management and provisioning. It enables Service Provider to deliver customer traffic from Access network to NFV platform in Telco PoP and tightly integrate Metro aggregation network services with value added NFV or other Cloud services running in DC. B4N Controller can act as a multi-domain SDN Controller for WAN and DC. As the SDN Controller for DC, it provides unified management for bare-metal switches with OpenFlow support and virtual switches in OpenStack or VMware environments. B4N Controller forms the single network fabric in DC without separation to overlay and underlay networks. This approach helps to reduce latency and network overhead, improve network management, simplify troubleshooting. For Metro Networks, it provides a full set of Carrier Ethernet primitives, Traffic Engineering, Fast Failover of links, QoS and Multicast support.
CONTACT COMPANY

►
SOLUTION FEATURES
Full set of Carrier Ethernet Services


Acting as an SDN Controller for Metro Networks, B4N Controller provides a full set of Carrier Ethernet EVCs (E-Line, E-LAN, E-Tree EVCs), while enabling Hierarchical QoS per service.

Traffic Engineering


Segment Routing satisfies essential requirements for application-enabled routing in SDN, including an ability to provide strict network performance guarantees, efficient use of network resources and high scalability for application-based transactions

Unified Management of Virtual and Physical Networks


B4N Controller provides single management point for physical and virtual network elements, which enables CSP to deliver customer traffic from Access network to NFV environment, create dynamic service chains and tigtly integrate DC services with MPLS

High Availability


2n+1 active consistency model which allows three controllers to manage individual subsets of the network while sharing a common network view

Fast Failover


This feature is designed specifically to detect and overcome port and link failures. B4N Controller provides FF mechanisms to redirect traffic to alternative links without control plane consultation and with minimal packet.

Switching options


B4N Controller supports two service models for transport - VLAN Swapping and MPLS Segment Routing. There are no encapsulation processes required to mark customer traffic.

Ethernet CFM Support


B4N Controller provides proactive connectivity monitoring, fault verification, and fault isolation features leveraging Ethernet CFM opeatation, administration and management (OAM) protocol.

Operation in Docker Containers


Service isolation with all standard virtualization features with near-to-native performance. That reduces times for restart virtual machines in case of failure. Full system restart takes about 10 seconds.

Northbound APIs


B4N Controller supports NETCONF and REST API that provide an abstract representation of the underlying OpenFlow network and allow external applications running above the controller to exert control over the network.

Integraion with IP/MPLS Networks


B4N Controller has a so-called "Distributed routing" functionality: Routing MP-BGP component that helps CSP to migrate Customers to SDN Infrastructure without any service degradation tightly and to provide L3 functionality in SDN domain.
RESOURCES