Lenovo Flex System x240 M5 Compute Node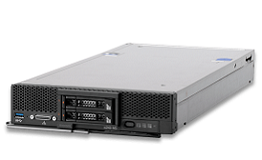 Last Updated: June 07, 2020
The Lenovo Flex System x240 M5 Compute Node is a high-performance server that offers enhanced security, efficiency, and reliability features to handle business-critical workloads. The blade server incorporates up to two Intel Xeon processor E5-2600 v4. The processors feature up to 22 cores each and use new lightning-fast Lenovo TruDDR4 memory, which runs at speeds up to 2400 MHz. Suggested uses: database, virtualization, enterprise applications, collaboration and email, streaming media, Web, HPC, and cloud applications. The x240 M5 Compute Node integrates leadership security and reliability capabilities. System x Trusted Platform Assurance, an exclusive set of System x features and practices, establishes a highly secure foundation for your workloads. Enterprise-class data protection is provided with optional self-encrypting drives and simple, centralized key management through Security Key Lifecycle Management. Diagnostic tools facilitate reduced downtime and costs.
Solution Features
Scalability and performance- The x240 M5 offers the following features to boost performance, improve scalability, and reduce costs:


.

Improves productivity by offering superior system performance with up to 22-core processors, up to 55 MB of L3 cache, and up to 9.6 GT/s QPI interconnect links.


.

-Supports up to two processors, 44 cores, and 88 threads, which maximizes the concurrent execution of multi-threaded applications.


.

-Intelligent and adaptive system performance with energy-efficient Intel Turbo Boost Technology allows CPU cores to run at maximum speeds during peak workloads by temporarily going beyond processor thermal design power (TDP).


.

-Intel Hyper-Threading Technology boosts performance for multithreaded applications by enabling simultaneous multithreading within each processor core, up to two threads per core.


.

-Intel Virtualization Technology integrates hardware-level virtualization hooks that allow operating system vendors to better use the hardware for virtualization workloads.


.

-Intel Advanced Vector Extensions 2.0 (AVX 2.0) enable acceleration of enterprise-class workloads, such as databases and enterprise resource planning.


.

-Up to 2400 MHz memory speeds with two DIMMs per channel (2DPC) that are running at 2400 MHz to help maximize system performance. (Competitive servers—using standard DDR4 DIMMs—are limited to only 2133MHz when running 2DPC.)


.

-Up to 1.5 TB of memory capacity using 64 GB LRDIMMs.


.

-Optional support for high-performance PCIe-attached NVMe Flash Storage solid-state drives (SSDs) can significantly improve I/O performance. (support planned for 3Q/2016)


.

-Supports the Storage Expansion Node, which provides another 12 hot-swap, 2.5-inch drive bays for local storage.


.

-Up to 32 virtual I/O ports per compute node with available 10 Gb Virtual Fabric Adapters, which offers the choice of Ethernet, iSCSI, or Fibre Channel over Ethernet (FCoE) connectivity.


.

-The x240 M5 offers PCI Express 3.0 I/O expansion capabilities that improve the theoretical maximum bandwidth by 60% (8 GT/s per link), compared with the previous generation of PCI Express 2.0.


.

-With Intel Integrated I/O Technology, the PCI Express 3.0 controller is integrated into the Intel Xeon processor E5 family. This integration helps to dramatically reduce I/O latency and increase overall system performance.


.

-Support for high-bandwidth I/O adapters; up to two in each x240 M5 Compute Node.


.

-Support for 10 Gb Ethernet, 16 Gb Fibre Channel, and FDR InfiniBand.


.

-Supports the PCIe Expansion Node for support for up to six more I/O adapters.


.

-High-speed USB 3.0 port for connectivity to external devices.


.
Categories
Data Center
Categories
Enterprise
Hardware Platforms
Core Network
Network Location
NFVI Hardware
Telecommunications
Verticals/Industries