NX-B5000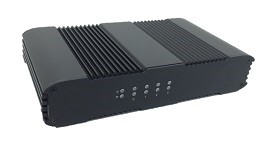 •Guarantees high reliability by full redundant system & designed for continuous service. •Advancement of 10,000 concurrent audio session after adopting Intel DPDK. •Home network is protected and external networks are suppressed by firewall, DOS detection, layer 7 filter, domain authentication, traffic control & topology hiding operations. •In order for interoperability to operate or work at VoIP network edge, NX-B5000 picks up increments by SIP Header Manipulation, sequence termination, & transcoding functions. •Problem resolved without any influence to customer's system with active SIP, as well as cost and time during their telecommunication connectivity. •Additional servers is an option for user and transaction increase. •NX-B5000 is equipped to connect to various kinds of terminals, gateways, SIP servers, & applications without special customization. •Maintenance operation such as server start / stop can be managed with GUI, as well as input, change, & delete network SO with GUI.
CONTACT COMPANY

►
SOLUTION FEATURES
Message Manipulation


Ability to manipulate incoming and outgoing messages and have different networks interoperable.

Number Routing


To access multiple telecom carriers or multiple IP-PBX per system, number routing shall be set.

Registration


Sends REGISTER to the carrier SIP server instead of IP-PBX.

Network Address Translation (NAT)


Interconnects IP-PBX private network and carrier network.

Media Control


Terminates RTP from telecom carrier, then retransmits to private network with NAT feature.

Security


Equipped with security features, including encryption, firewall, and denial of service (DOS) detection.
RESOURCES
CATEGORIES
Deliverables
Intel Technologies and Platforms
Network Location
Verticals / Industries
Integrated solution
Intel Xeon processor
Data Center
On Premises
Connected Cars
Financial Services
Industrial
Manufacturing
Media & Entertainment
Medical / Healthcare
Retail
Smart Cities
Transportation
Hardware
OS/Virtualization
Session Border Controller (SBC)
DPDK