Related Content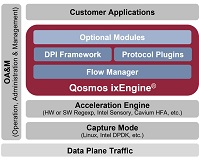 Last Updated: August 24, 2022
The Enea Qosmos ixEngine® is an advanced, DPI-based classification engine that recognizes over 3700 protocols, more than any other on the market. It provides classification of encrypted and evasive traffic and has a unique first packet processing capability that boosts application recognition and accuracy.   Delivered as a Software Development Kit (SDK), it is composed of software libraries, modules and tools that are easily integrated into new or existing solutions. Developers benefit from market-leading IP flow parsing technology to bring detailed traffic visibility to network solutions up to Layer 7. Integration of Qosmos ixEngine as a software component removes the need to develop in-house protocol recognition capabilities, simplifying product development and accelerating delivery.
Solution Features
Encrypted & Evasive Traffic Classification


Maintains essential visibility and detects potential threats without using decryption.

First Packet Advantage


Enables outstanding performance by accurately classifying all traffic from the first packet.

Machine Learning Categorizer


Boosts first packet classification accuracy and preserve visibility in fully encrypted environments by categorizing flows by service type (e.g., streaming video, audio call).

MITM Risk Indicator


Detects and quantifies the risk that a TLS Proxy, possibly illegitimate, is being used to intercept secure communications.

Custom Signature Module


Complements Qosmos signatures with user-defined signatures for proprietary protocols or extensions.

Deep File Inspection


Detects file types, checking consistency between MIME types and file extensions, computing file hashes and extracting metadata.

Rule Engine


For the execution of customer-defined rules at run-time (correlations, aggregations, etc.).

Automated DPI


Classifies previously unknown traffic using automated algorithms.
Categories
1st gen Intel Xeon Scalable processor
2nd gen Intel Xeon Scalable processor
3rd gen Intel Xeon Scalable processor
4G and 3G
5G
Artificial Intelligence (AI)
Categories
Cloud Native/NFV
Cloud Service Providers
Content Distribution (CDN)
Core Network
Data Analytics
Data Center
DPDK
Enterprise
Government
Hybrid Cloud
Industrial
Intel Atom Processor
Intel Technologies and Platforms
Media Analytics
Network Location
Network Security
On Premises
SD-WAN and uCPE
SD-WAN/uCPE
SDN
Security
Software Platforms
System Integration
System Integrators
Telecommunications
Verticals/Industries
Workloads and Use-cases