RIFT.ware Network Service Virtualization Platform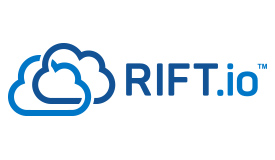 Last Updated: June 07, 2020
The RIFT.ware™, Network Service Virtualization (NSV) platform brings together cloud management, SDN, and NFV to accelerate and automate virtual network service deployments and build scalability and manageability into virtual network functions. RIFT.ware gives enterprises and service providers a standard platform to deploy virtual network services today, and provides network and cloud function builders with a framework for building elastic, distributed virtual network functions (VNFs) and services. RIFT.ware features intelligent workload placement so network services can intelligently take advantage of unique network and cloud infrastructure capabilities and scale limitlessly. RIFT.ware™ is available as open source software that is compliant with the latest Open Source communities and ETSI standards, eliminates vendor lock-in, and supports any network application on any cloud at any scale.
Solution Features
ANY APP - - Add intelligent networking to any VNF and business application. RIFT.ware is also open source, prevents vendor lock-in, facilitates interoperability, and provides the flexibility to run any application on your SDN/NFV infrastructure.

ANY CLOUD - Launch and manage VNFs and network applications on any data center infrastructure, whether public, private, or hybrid cloud. Your application can leverage the most advanced capabilities of each cloud (e.g. EPA, SDN), and more easily migrate between different clouds.

ANY SCALE - Start with a single VNF on a single infrastructure entity (VM, container, bare metal) on any cloud platform and scale to any number of VNFs, VMs, containers, etc. and locations on multiple clouds with no capacity constraints or distance limitations.

OPEN SOURCE - Plug and play architecture with well-defined industry standard interfaces offers integration with any 3rd party orchestration platform, analytics tool, Cloud Management Platform, and SDN platform. RIFT.ware provides a fully-automated, true, end-to-end multi-vendor environment for any application that can be ready for production in days, not weeks or months.

Categories
AI and Automation
Cloud Native/NFV
Data Center
Categories
DPDK
Enterprise
Intel QuickAssist Technology (QAT)
Core Network
Network Location
NFVI OS/Virtualization
Open Source Solutions
OpenStack Enhanced Platform Awareness (EPA)
OpenVINO Toolkit
SD-WAN/uCPE
SDN
Software Platforms
Telecommunications
Verticals/Industries
Virtualized Infrastructure Manager (VIM)