Wedge 100S-32X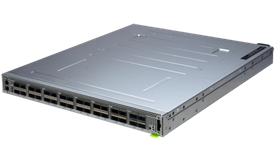 Intel Broadwell-DE D1508 Processor Wedge 100S-32X is a commercial product based on Facebook's Wedge100S. The Wedge 100-32X switch provides 32 QSFP28 ports that can each run at 100GbE/40GbE, or as 4 x 25 GbE/4 x 10 GbE/2 x 50 GbE through breakout cables.
CONTACT COMPANY

►
SOLUTION FEATURES
• Bare-metal TOR switch for data center fabric.


Intel Broadwell-DE D1508 Processor

• Open hardware design contributed by Facebook to Open Compute Project.

• Compatible with 19" rack, or 21" Open Rack with Open Rack Switch Adapter

• 32 x QSFP28 ports in compact 1RU form factor.

• Each port supports 1 x 100 GbE/40 GbE, or 4 x 25 GbE/4 x 10 GbE/2 x 50 GbE via breakout cables.

• Line-rate Layer 2 or Layer 3 forwarding of 3.2 Tbps full duplex.

• Hot-swappable, load-sharing, redundant AC PSUs or 12 V DC PSUs.

• 4+1 redundant, hot-swappable fans.

• Front (port) to Back (power) airflow.

• Console, management, and USB ports on switch side.

• Hardware switch pre-loaded with Open Network Install Environment (ONIE) for automated loading of compatible open source and commerical NOS offerings.

• Compatible with SnapRoute FlexSwitch software, a full function L2 and L3 NOS with rich APIs and analytics, accpeted by OCP.

• Compatible with Open Network Linux (ONL), an open-source, OCP reference NOS.

• BMC controller and OpenBMC firmware for standard system management of switch hardware functions.

• Compatible with open-source FBOSS Agent software.

RESOURCES
CATEGORIES
Deliverables
Intel Technologies and Platforms
Network Location
Verticals / Industries
Workloads and use cases
Hardware Platforms
Fabric
Intel Xeon D processor
Access Edge
Data Center
Device Edge
Metro/Regional CO Edge
On Premises
Remote CO Edge
Connected Cars
Financial Services
Industrial
Manufacturing
Media & Entertainment
Medical / Healthcare
Retail
Smart Cities
Transportation
Analytics
Artificial Intelligence
Augmented/Virtual Reality
Computer Vision
Content Distribution
Crowd Sensing
Emergency Response
Machine Learning
Security
Hardware
Application Delivery Controller (ADC)
Broadband Remote Access Server (BRAS)
Load Balancer (LB)
Router
Virtualized Evolved Packet Core (vEPC)
DPDK
Intel Network Edge Virtualization (NEV) SDK
Open Daylight
OpenStack EPA