XGS-PON virtual OLT; ASXvOLT16 Bare-metal hardware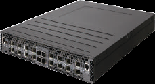 Intel Broadwell-DE XeonD-1518 2.2 GHz The ASXvOLT16 is a 16-10G-port XGS-PON virtual Optical Line Terminal (vOLT) with 4x100G/40G QSFP28 fixed ports. The 10G ports, 100G uplink ports, and console/management USB ports are all on the front panel. All 10G ports operate at wire-speed by default and support standard XGS-PON transceivers. The QSFP28 ports support 100G and 40G operation modes, as well as being configurable as 4x25 GbE or 4x10 GbE modes using DAC breakout cables. This vOLT supports redundant hot-swappable PSUs and fans, and is available with front-to-back or back-to-front airflow direction.
CONTACT COMPANY

►
SOLUTION FEATURES
Cost-effective, bare-metal switch infrastructure for data center fabric


4 x QSFP28 switch ports, each supporting 1 x 100 GbE or 1 x 40 GbE, or via breakout cables 2x50 GbE, 4x25 GbE, or 4x10 GbE. Layer 2 or Layer 3 forwarding at 300 Gbps (full duplex). Support hot/cold aisles with front-to-back airflow SKU.

Truly open hardware platform


Open Network with Intel Broadwell-DE XeonD-1518 2.2 GHz; Bare-Metal hardware switch pre-loaded with diagnostics software and with Open Network Install Environment (ONIE) for automated loading of compatible open source and commercial NOS offerings.
RESOURCES
CATEGORIES
Deliverables
Intel Technologies and Platforms
Network Location
Verticals / Industries
Workloads and use cases
Hardware Platforms
Intel Xeon D processor
Access Edge
Data Center
Device Edge
Metro/Regional CO Edge
Connected Cars
Financial Services
Industrial
Manufacturing
Media & Entertainment
Medical / Healthcare
Retail
Smart Cities
Transportation
Analytics
Artificial Intelligence
Augmented/Virtual Reality
Computer Vision
Content Distribution
Crowd Sensing
Emergency Response
Machine Learning
Security
Hardware
NFV Service Orchestration
OSS, BSS & EMS / NMS
SDN Controller
Virtualized Infrastructure Manager (VIM)
System Integrators
Test Tools and Reporting Software
Application Delivery Controller (ADC)
Content Delivery Networks (CDN)
Load Balancer (LB)
Router
DPDK
Intel Media SDK
Intel Network Edge Virtualization (NEV) SDK
Intel QuickAssist Technology
Open Daylight
Open vSwitch with DPDK
OpenStack EPA