YateUCN (MSC/VLR, GMSC, SGSN, GGSN, EPC, IMS)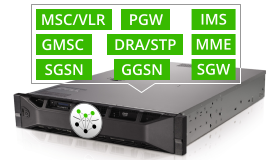 Last Updated: June 04, 2020
YateUCN is a unified core network solution intended for new GSM/GPRS/LTE networks, for upgrading GSM/GPRS networks to LTE, or for extending existing networks. The YateUCN software-defined core implements all the functions and protocols of GSM/GPRS and LTE core networks in software, and uses commodity hardware. The YateUCN integrates the MSC/VLR/SGSN/GGSN/GMSC nodes from the GSM/GPRS core network, the EPC layers (SGW/PGW/MME) and the SAE/VoLTE layers (P-CSCF, I/S-CSCF, IWF, and BGW) from the LTE network in a single server. The unified core network solution is based on replacing the base station subsystem with the YateBTS (GSM) and the eNodeB with the YateENB (LTE). The YateUCN communicates with the YateBTS/YateENB using the SIP/S1AP/GTP protocols, instead of the more costly SS7 MAP-A interface (BSSAP protocol). This leads to a higher return on investment without affecting the reliability of the network or the services. Price/instance: $31050.
Solution Features
The YateUCN runs on commodity hardware, allowing for a simplified network architecture and lower deployment costs.


YateUCN allows building networks with a simplified architecture because it usually runs on Dell PowerEdge R530, a server that can be acquired by the customer or it can be provided by us.

Enables carriers to deploy LTE networks with reduced initial investment

Allows for scaling as you go.


You can add more servers or separate the functionality as more users adopt your service.

Increases network resiliency


In case of equipment failure you can easily configure another server to take up the functions of the fault node.

Low idle traffic


Low idle traffic allows transport technologies like satellite

Remote access - YateUCN is easy to operate and manage remotely using the Yate Mobile Management Interface (MMI)


The interface makes it accessible to add a new YateUCN unit, to setup a cluster of YateUCNs, to configure a single YateUCN function (MSC/VLR, GMSC, SGSN or PGW), to configure YateUCN equipment with all its GSM/GPRS/LTE functions and more.
Categories
4G and 3G
Categories
DPDK
IP Multimedia Subsystems (IMS)
Core Network
Network Location
Policy Controllers & Policy Charging Rules Function (PCRF)
SDN Controller
Software Platforms
Telecommunications
Verticals/Industries
Virtualized Evolved Packet Core (vEPC)