Related Content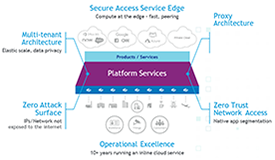 Last Updated: March 04, 2022
Modern digital business models are allowing new levels of customer and employee engagement by delivering globally available access to applications and services that is consistent, no matter where employees and customers connect or what devices they are using. The notion of network security when your users and applications are distributed is no longer viable in a digital world. Gartner developed a new model of networking and security that matches the requirements of the digital enterprise. They're calling it the secure access service edge (SASE). The Zscaler Cloud Security Platform is a SASE service built from the ground up for performance and scalability. As a globally distributed platform, Zscaler ensures that users are always a short hop to their applications, and through peering with hundreds of partners in major internet exchanges around the world, Zscaler provides optimal performance and reliability for your users.
Solution Features
Reduces IT cost and complexity


Easy to deploy and manage as an automated, cloud-delivered service that scales

Delivers a great user experience


Brings security and policy close to the user to eliminate unnecessary backhaul

Reduces risk


Inline inspection of encrypted traffic at scale for threat protection and data loss prevention

A cloud-first architecture


The Zscaler SASE architecture helps accelerate cloud adoption by removing network and security friction through a consolidation and simplification of IT services. Without the need for device management and separate services, Zscaler offers a friction

Full inline SSL inspection at scale


With the majority of traffic encrypted today, you need a proxy-based architecture that can scale for effective threat protection and data loss prevention.

Application peering and optimization


Zscaler globally peers at the edge with leading application and service providers and optimizes traffic routing to provide the best user experience.

Zero trust network access


Zscaler provides a user- and application-centric approach to application access. A fully cloud- delivered service, Zscaler provides native app segmentation by using business policies to connect an authenticated user to an authorized app without bring

Zero attack surface


Adversaries can't attack what they can't see, which is why the Zscaler architecture hides source identities by obfuscating their IP addresses and avoids exposing the corporate network to the internet.
Categories
Automotive
Cloud Service Providers
Enterprise
Financial Services
Government
Hospitality
Industrial
Manufacturing
Media and Entertainment
Medical and Healthcare
Retail
System Integration
Telecommunications
Transportation
Verticals/Industries